This is the original Samoyed Breeders web page which was designed to provide a place for "reputable and responsible" Samoyed breeders to advertise their upcoming litters, puppies and adult dogs. This page is also meant to be a good place to aid in finding loving homes for adults and rescue Samoyeds. Even though some of these Samoyed breeders may not advertise on the internet, they may be as good if not better breeders than those who do have a web page.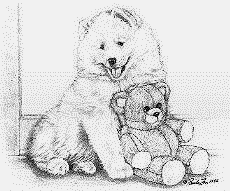 Click on the appropriate link above to access the information you need. New or updated litter announcements will be added to the web site as we are notified. Remember to bookmark this site so you can check out any new updates. We would appreciate any links to www.samoyedbreeders.org added to your web page, especially if you advertise on this page in any way. Also, before making any contacts, please read the "Disclosure" information provided via the link above.
Graphic Title: Sammy's Teddy
Copyright © 1992
Artist: Paula Zan
Website: www.mythling.com
"The Samoyed Breeders Web Page"
All Rights Reserved!!! Web site created in January 26, 1999 by Tina Grant of Mytee Samoyeds. For information on advertising on this page, please refer to the "Disclosure" and "Info for Breeders" tabs above before contact. Webmaster: Ken Alrick ~ kenlhlp@gmail.com
Information last updated 12/17/2017