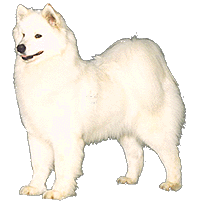 Samoyed Breeders Showcase
Accepting "pre-approved" business card advertisements
for reputable Samoyed breeders at this time; see details below!

Select which region you would like to view!
NORTHEAST - SOUTHWEST - MIDWEST - SOUTHEAST - NORTHWEST - CANADA
SOUTHWEST, USA

PRICING FOR ADVERTISERS:
Business card or pre-designed banner advertisements are $20 per year (PayPal - $24.00). Please contact me since the business card or banner needs to be "pre-approved" for the Samoyed Breeder's Showcase page (see email address below). If you have a scanned version (prefer .jpg) of your business card, don't hesitate to email it to me for arrangements.
I can modify some photos or business cards so please be sure to inquire with me even if you are unsure the information on it can be fixed. I can create custom banner designs with a photo(s) you provide; it's an additional fee of $25, but only a one-time fee.
For more information on advertising on the Showcase page, email Tina at tina@myteesamoyeds.com